So, I've posted some of these as we made them, others I didn't get pictures of, but I wanted to put up all of them together. Partially to show it off, and also to give people ideas of how to make some quick educational crafts.
So, here ya go. Pictures are larger than usual so you can see better detail.
This is the cover page. I went through and using a single hole punch put 4 holes in and reinforced it with hole protectors. The cover is a piece of posterboard cut in half. Each of these are done on manila paper. In retrospect for durability I should have done it all on posterboard and bought a huge package of it. I may actually go back and do that.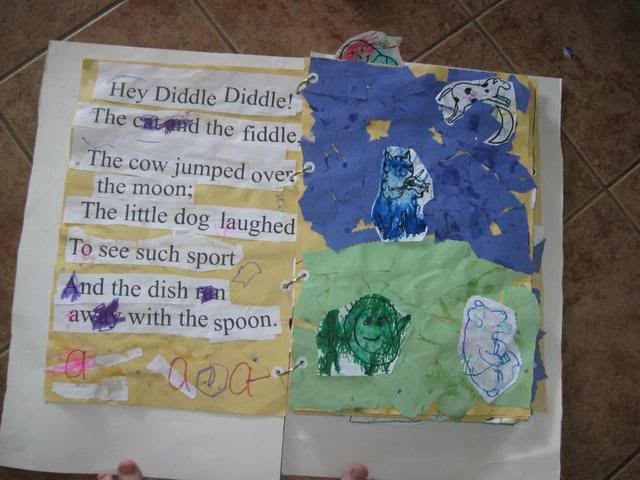 Hey Diddle Diddle
This is done as a collage. We tore up a lot of paper and glued it down to make the background then colored the figures and glued them on top.
Three Little Kittens
This one is just coloring and gluing the different parts to the picture on. Did you know there are like 15 verses to this rhyme? We only did the first four. Afterwards we got mittens and had fun acting it out. I tried having them find all of the "th" phonemes, but that's above their skill level.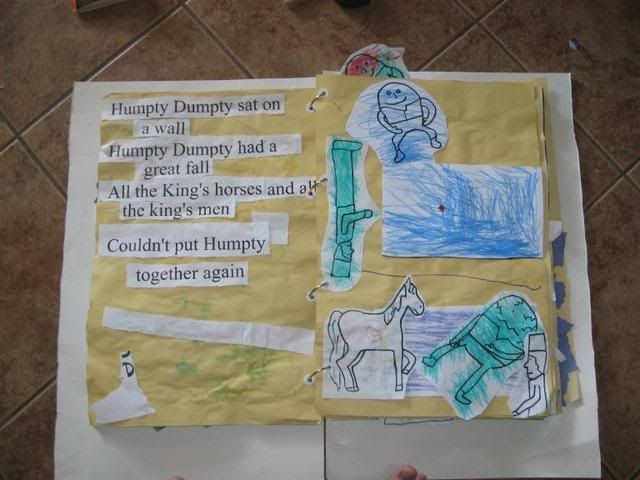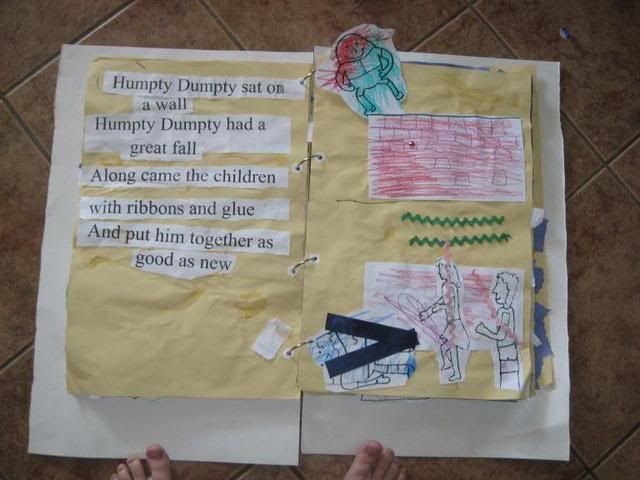 Humpty Dumpty
The second verse is from a CD I found at Half Price. My husband doesn't like the second verse, but I do. This is another one that has several alternative verses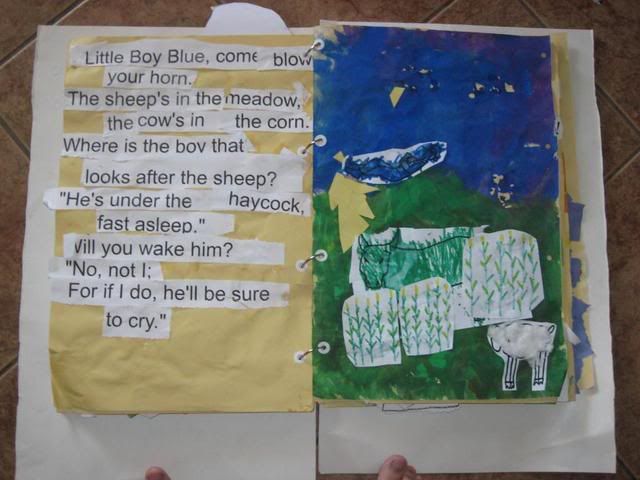 Little Boy Blue
I never posted the final picture of it, so here it is. After painting the background that is featured in the post, we colored the figures and glued on the haystack which is yellow paper cut into lots of little bits.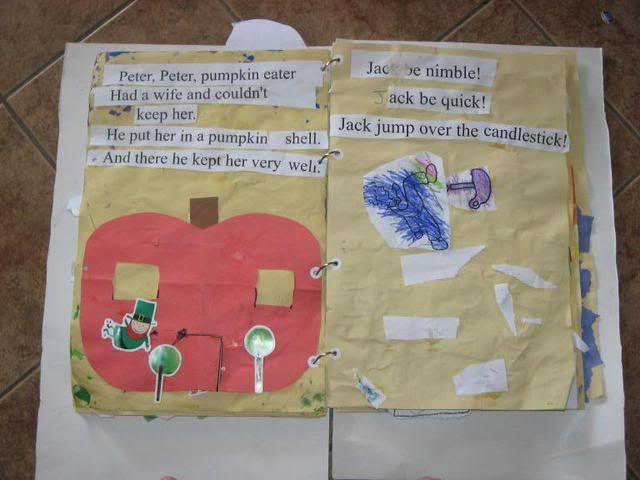 Peter Peter Pumkpin Eater
and Jack be Nimble
Both of these were done shortly after I had gotten a cutout calendar, so we had fun finding pictures to include for the pictures. Late January and early February is a great time to pick up craft supplies in the form of the current years calendars on clearance. It's great fun to get them at 70% off.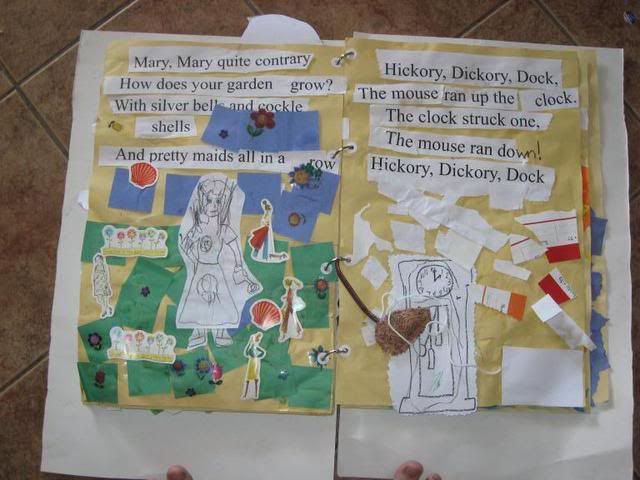 Mary Mary Quite Contrary
Hickory Dickory Dock
I think Mary Mary is one of my favorite nursery rhymes. Partially because I did a paper on nursery rhymes in high school explaining the politics behind many of them. Yes, I am a nerd. This is also when I started trying to find ways to make them interactive (hence the mouse on a string to climb the clock). Oh, and I found an awesome book that is the complete
Hickory Dickory Dock
. High on silliness.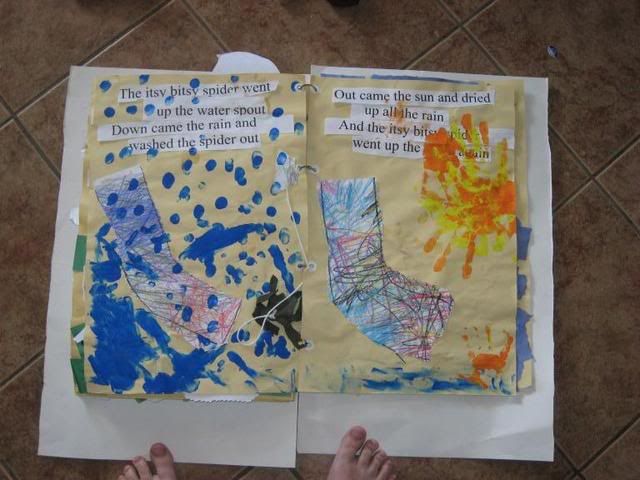 Itsy Bitsy Spider
It's "mixed medium" if you want to get technical. They painted hte background with thumbprints and handprints. Then the gutter is just copy paper colored with crayons. I like crayons because of the textile experience. Also they don't obscure details as much as markers, but I know kids love markers more because they provide more immediate results for area coverage. This is probably one of their favorites. Actually any of the ones that have things for them to do are favorites.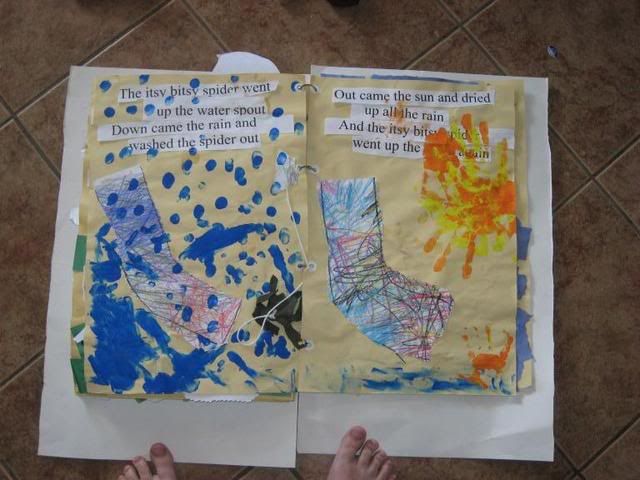 Jack and Jill
So, in theory the Jill on the right goes down the hill. In reality she just spins in place. When we were gluing the hill on we glued down the cardstock that holds the brad she's attached to. Oh well, you can't get them all right. Again this is a collage. I find those hold up the best. The more stuff on the paper the less likely they are to rip it as they turn pages.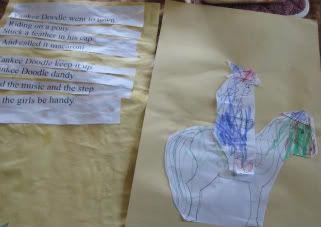 Yankee Doodle Dandy
Which we just finished yesterday. It's nothing super special, but they had lots of fun making it.