Sigh, copying actually works a lot better if you copy the silly thing....... I'm a little late getting this posted because they've not been napping as much, combine that with cleaning for the in-laws to come, and you get not much computer time.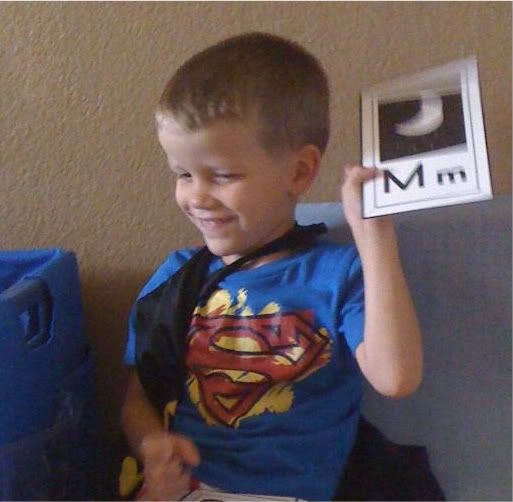 Here's what we did:
Bible
We've started a fun Bible study with our kids from
Bible Study Guide
. It's going to be a multi-year Bible study, and I like the fact that it can grow with my kids. Right now we're studying Joseph, and learning all sorts of stuff about him and figuring out how to apply this to our lives. I'll write a thorough review of this alter, because I know lots of you want a great Bible study to do with your kids.
Science
Our theme for the week was moon, so we talked about the moon a lot. I don't think they really quite got the concept, but at this age it's just a lot of exposure. Unfortunately our timing was bad because it was a new moon and a crescent moon last week, so.....
However the most popular game for the week was naming the phases of the moon. I drew the 4 different phases (crescent, quarter [half circle], full, and new [blank paper]) on black paper using white crayon. This especially intrigued the kids because they previously thought the white crayon was broken since it wouldn't draw on white paper. Then each person was passed one card. We'd take turns flipping it over and telling what moon we had. If the person was right they got a button. At the end we all counted our buttons and cheered for our buttons. Simple, easy, fun.
Math
We continued with our
calendar time
. We also continued to work on patterns. The've gotten the AB pattern mostly down. I'll try it for another month just to be sure.
General School Readiness
They randomly decided they wanted to feed the pig again..... It's still a good fine motor skill activity, so I'm not complaining. Here's the link on how to
make the pig
.
We did some worksheets from
Learning Page
. I have a bit of a paradoxical philosophy on worksheets. I don't like them for everything, but they're helpful for the preprinting skills like tracing and such stuff. That and my kids like them.
LANGUAGE ARTS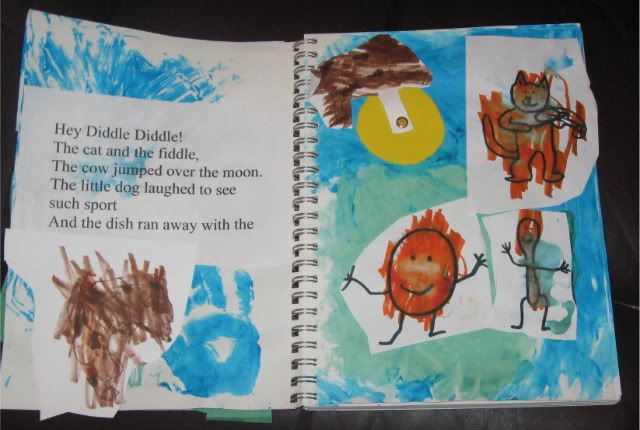 We continued in our Nursery Rhyme book with
Hey Diddle Diddle
We read lots of
books
.
The high point for me came when my in-laws came down to visit for the weekend and Superman very proudly wrote his name on the sidewalk. Batman then had to do the same thing. Apparently if I want them to do well with writing, it needs to be on a larger scale...... Like 1 foot letters. Seriously.....
I actually think we'll start trying to make letters like that, they enjoy writing with chalk, and that gets them outside. Besides the temperature has become an almost chilly 90 degrees these past few days.
Field Trips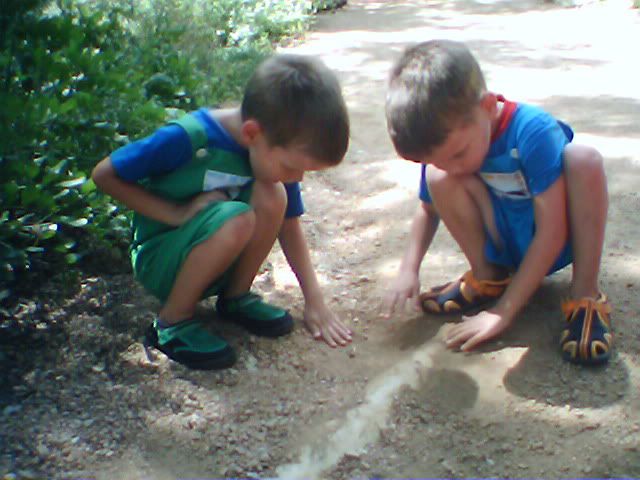 We went to Zilker Botanical gardens. They have a Prehistoric gardens, because a few years ago when they were going to expand the gardens, dinsoaur footprints were found. While we were going through the gardens my boys found a dinosaur bone buried in the ground (in reality it was a tree root, but who am I to spoil their fun?).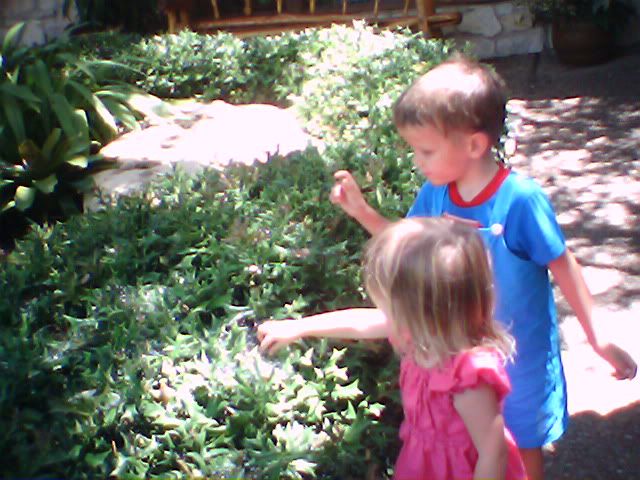 We also found a spider web in the bushes. We had lots of fun talking about why the spider makes a web, and how the web catches the water droplets. It was a blast overall.
I also took insanely large number of random nature shots to create a photo scavenger hunt for us to do since I knew we'd be coming back in about a week with the grandparents. I'll talk more on that in a day or so.
For more great Weeks in Review go
here
.
To find more fabulous preschool ides (seriously, I get so many great ideas for these) go
here