I had all these big plans, and then life got in the way in the form of strep throaght for me and my husband. Ick.
We went on a walk, the kids had lots of fun running around playing with their new camera. In theory they were taking pictures of plants they thought looked cool. Here's what they really took pictures of
That's their two pictures of plants......
Princess kept holding the camera backwards. So she took lots of pictures of her mouth.
They climbed rocks and jumped off.
We made letters and roads and all sorts of other stuff with our new letter building materials. Read more about that
here
.
She learned how to play guitar and got to play the Mommy and Daddy's anniversary present: Rock Band!
Building a castle out of spools. I think it's hilarious that when I had a whole set of blocks they never used them, and then once I gave them away they're turning everything into blocks. But, the spools are working great!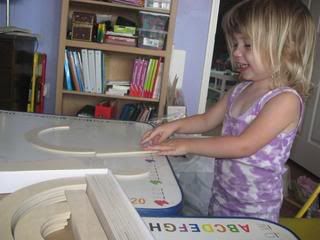 We built a snake. It was really amusing to see how each child chose different pieces to build a snake.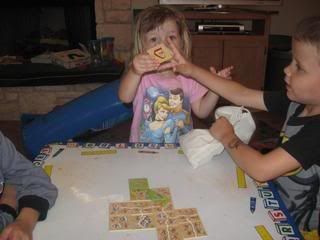 We played Carcassone. We've been adapting adult games to be usable by preschoolers and that's
fun to do
.
We made doll beds. Here's a
how to
.
So, that's our rather mundane Tot School. Nothing super exciting. Probably we'll do more of our snake activities next week as I get us ready to go out of town.
For more Tot School Activities go to Carisa's blog at
1+1+1
.