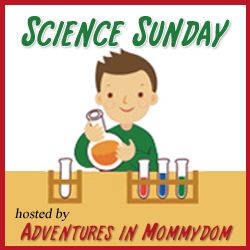 My co-op buddy and I had been using the same science and would get together from time to time and have science lessons together, then she switched on me from Swimming Creatures to Anatomy. Why? So she could use the junior journal, but I was already committed having bought the Swimming Creatures lapbook (which is on sale right now, and I do still recommend), and really liking it.
This year I gave my kids the choice of doing the lapbook again or using the Junior journal. I brought one of their lapbooks and we sat on the floor of the local Christian bookstore and compared the two. Thus ensued a long discussion about the pros and cons, here they are as my children decided:
PROS according to my kids
1. coloring pages, this was Superman's big thing, he loves to color and actually wants more pages to color
2. Places to draw pictures of what we're learning about.
3. Fun looking experiments.
PROS according to me
4. Perfect amount of space for young writers. My kids struggle to write on their own, they want me to spell EVERYTHING. I'm working on building their confidence writing on their own and helping afterwards.
5. Copywork for working on handwriting. The copywork is either definitions or Bible verses, and there is an option for print or cursive. Along with space to draw.
6. Additional resources and ideas. Each lesson has about two pages of itty bitty print of extra resources, if you did everything you would easily take a month or more for each lesson. Obviously we're not going to do it all, but many of these videos are on Netflix or youtube and it's a fun way to pass an evening.
7. Lesson plans- it does a great job of breaking down how to use the textbook and journal together. I partially based my lesson plans on their layout. Slightly different, but same idea.
8. Additional experiments, you know my kids are all about those experiments. ALL ABOUT. They actually are in the process of creating their own experiments right now.
CONS
1. Since it's not a download I have to buy one for each kid, but the plus side of that is I don't have to print it out myself.
Let's see what others did this week:
Each week I'm spotlighting a few posts that were shared previously. Many posts get linked up later in the week and they don't always get as many clicks as they deserve, so I'm trying to spotlight a few every week.
Books 4 Learning shared about a new picture book series showing animal life cycles. Isn't that mole picture amazing?
Little Wonder Days has a wonderful experiment that leads to making homemade bread. Anything leading to homemade bread is a good thing in my mind.
Creekside Learning shared her science curriculum for this year. I have to say it looks intriguing.