So, most of these activities can be catalogued for next year's Easter activites, but they can also easily be adapted to non-Easter activities. My boys had lots of fun making the crafts we did this week, and now that we've been in town for more than a couple of days, we'll actually have some good school going on this week (or at least planned stuff).

They loved making placemats with their sister, learn more about that activity here.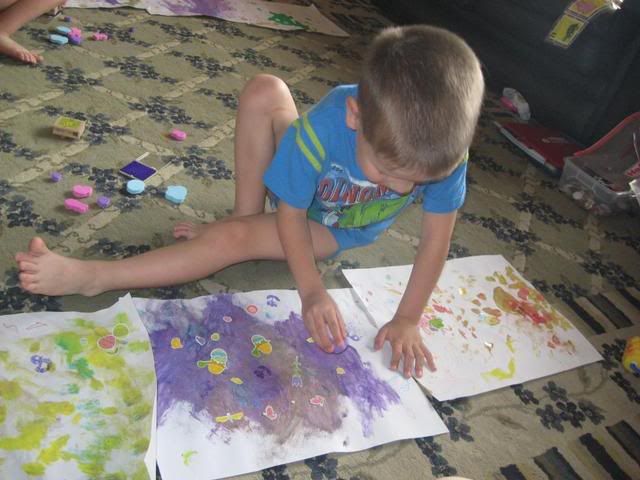 Our next activity: making bird's nests! They loved this, and it was a great multi-day art activity. Sadly, I have no memory of which wonderful blog I saw this on, if you know, please tell me!


First step: get an empty egg carton and cut the little egg slots apart. Let the kids have fun painting them in nest like or as we did spring colors.


While the nests are drying you can do the next step. Get one of the zillions of plastic eggs you got this weekend. Take either fun foam or construction paper. Cut out the shape of a bill and wings. In theory your wings will match your eggs. In practice my boys like blue and green, so that's the wings they chose. Glue on your wings and beak.




Explain that it is not the end of the world to have glue on your hand, and calm down the hysteridal child.

Now if you have any wiggly eyes, those would make great eyes, if not you can draw on eyes with a Sharpie. Regular crayola markers do not work for this, all they do is wipe off on your hands. Trust me.


Here are the final Mommy steps: punch holes in the sides and thread ribbon through and tie it onto wherever you're hanging them.

Next Easter craft: dying Easter eggs! Also known as a great way to ruin clothes if you leave them on.



Superman dying his eggs.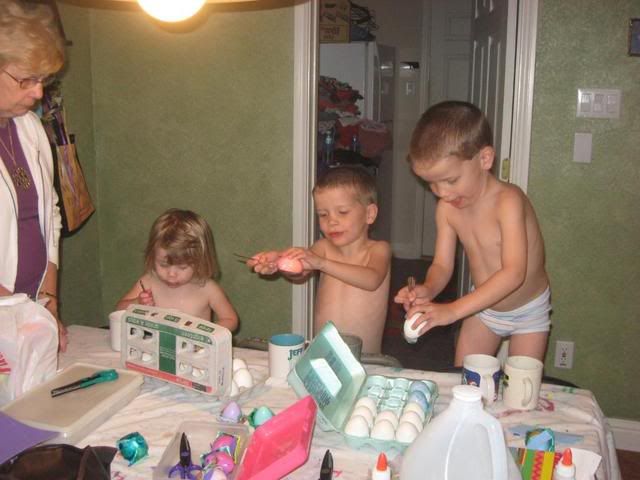 Princess, Batman (middle), and Superman working hard as Nana helps.

A couple of helpful tips I figured out:
1. Assign each child 2 colors, that way there is no serious arguing over colors.
2. Reassign colors because you accidentally had the favorite colors backwards.
3. Have your kids in underwear or daipers or old clothes you don't mind staining.
4. Plan a bath right afterwards.
5. Cover the area with plastic, because my sheet drop cloth was soaked through in 2 seconds, but luckily I had a plastic tablecloth underneath.




To see more great preschool ideas go to Homeschol Creations