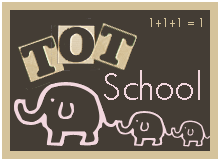 We didn't really do any official Tot School this week, but we did have a lot of great Easter crafts, so here's what we did:

We made placemats for our Easter table:

First we painted (and for some reason there's no picture of this step). Then while it dried we went and took a bath.


Next we covered our mats in stickers from the Target dollar aisle.

After that I got out the next dollar aisle find: stamp pads! Realistically after this step, we should have had another bath, but it was getting close to time to spend the night at Mimi's house, and sure wasn't going to miss out on a kid free night!

Then I took them down to the local Mardel store and laminated them. My husband joked that they can be the door prize for the lucky grandparent...... Either way Princess was very proud of her Easter decoration contribution.

Oops forgot to put in the final results!


She also helped with making the bird nests, but that was more of a craft for the boys, so I'll post about that tomorrow for Preschool Corner.



She also got to help clean up for our Easter guests. I firmly believe that kids should start helping with chores as soon as they are able. So, we use plastic dishes so the kids can help set the table and put away dishes. They are so excited to help at this age, that I want to do as much as I can to encourage it.




And yes, she is mopping with a broom. I'm waiting for the local toy store to get in 3 kid sized mops. It's been almost a month, I'm thinking of just ordering from a store online. But, I'm trying to support local stores as well. Patience is not a virtue I'm good at.


Once Nana and Granddad got here on Saturday we had lots of fun dying Easter eggs.



As you may have noticed, this was done in only diapers, I just didn't want to ruin another shirt doing a craft project..... But, it was wildly popular once they figured out you could dip the same egg more than once it got even more crazy. I was wincing a lot as Princess dropped the eggs from a daring height of 6 inches into the cup. She only severely cracked several.... Either way, they can still be hidden and shared with brothers.


But, I think they created a great table for Easter lunch! Don't you? For more great Tot School posts visit Carissa here.