This is something we've been meaning to do for a while, but every time we've had a Saturday morning free it's been horridly cold (which for anyone who lives North might consider warm, but to me anything approaching freezing is cold), or raining. We've had a very rainy winter here, but we finally got to go on our nature walk in our neighborhood.
Our goal for the walk: look for evidence of animals. When I told them this I was thinking finding things like tracks, maybe thing they might eat, or their droppings. Here's what we came up with.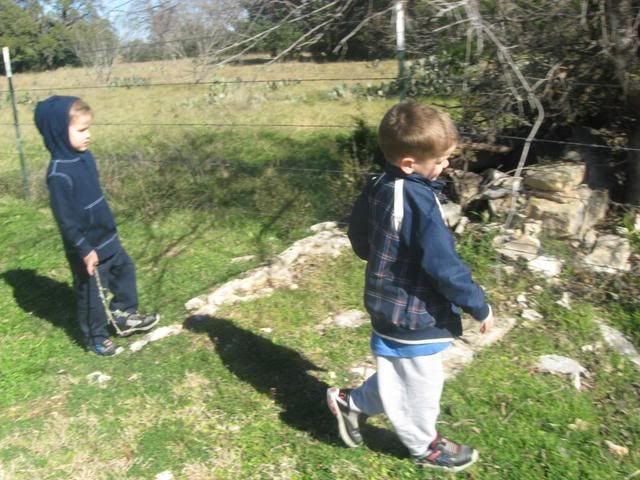 We noticed a mostly destroyed foundation or maybe a barn. After much talking they decided animals might have lived there. Princess was sure there were horses living there right now, and then she spent the next five minutes telling us about a lot more animals. I don't think I could write the full list.
Abandoned water tank for cows. My kids were fascinated at the idea of using this to water animals. That and the fact that it could be broken or worn-out.
We found acorns and seeds. The kids explained to me how animals eat them, and if you plant them in the ground it will grow a new tree.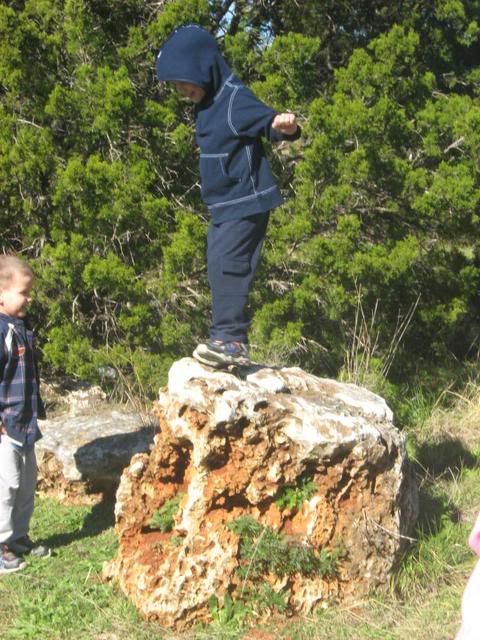 Of course we had to take a short break to climb the rocks, and then jump off the rocks.
We found a deer trail. I should say, Jeff found it first. Then we followed the trail, it was kind of cool to find something they'd climbed on often enough to make a trail. It led us here:
Doesn't this look like a perfect place for a bunch of deer to sleep?
It's nothing super fancy, but the weather wasn't cooperating for my other nefarious plans.
I'm going to try and highlight each week a cool experiment or resource or whatever science related I've seen recently. Here's this week's:
Check out how brave she was over at
Adventures of Bear
, she did a super cool experiment with air pressure. I think if I tried this here, I'd have a big huge mess.
For more about Science Sunday and participating go
here
.