I'm going to be making this pattern several times because I want to enter the patternreview.com contest, so here's my first take on it:




It's horridly wrinkled there, but you can see the general idea of it. I used a wing needle for the embellishment on the side seams, and here's a close-up of the embroideries.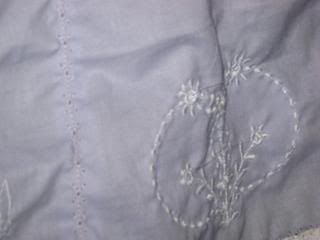 A few modifications I made to the pattern:
I made the front and back bloomer pieces into 1 piece cut out on the fold. So all I had to sew was a front middle seam.
The facing for the bottom hem was supposed to be on the inside, but I flipped it around to the front for a contrast band at the bottom.
I sewed a buttonhole onto the back of the bloomers. When I wash them or she's done wearing it I just button the bloomers to the button on the dress. I got tired of constantly having to search for the bloomers in the drawers of dresses.