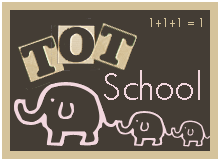 I'm sure anyone reading this is wondering: "Why did she start with that picture?" "Why did she call this tot school?"
Well, here's why, we were able to make these two spills into a great lesson. We went to our local park to have lunch and play. Within 30 seconds of sitting down and getting out our food, we'd had our first spill. This was followed very soon after by our next few spills and a cheeto falling on the ground. My kids looked at this and commented "Now the birds can drink it." I asked them why, and they explained the whole thing to me.
"The Mommy birds will bring the baby birds here so they can drink the yogurt and eat the cheeto."
"We can't eat the cheeto because it fell on the floor, but the Mommy and Daddy birds can give it to the baby birds."
So, as a result of what was admittedly a rather annoying spill because he'd spilled most of his yogurt before he'd drank any of it, we got a great discussion about birds and what they can and can't eat. We also talked about where baby birds come from and what they might do.
We had a lot of fun at the park, and I'm quite glad we went. They have really expanded their play, and now have whole discussion about what they're doing and why, and there are plotlines. It's quite fascinating to see. I look forward to seeing where they go from here.
And for a few more traditional tot school pictures:
more pattern work
putting together a floor puzzle, I should really look into getting more of these. It was a big hit.
Reading and acting out our Nursery Rhyme book (read more about that here: http://adventuresofmommyness.blogspot.com/search/label/nursery%20rhyme)
Thanks for visiting and thanks to Carissa for organizing all this! Be sure to visit her and the other tot school sites: http://1plus1plus1equals1.blogspot.com/2009/03/tot-school-12-week.html