Princess is currently 28 months old.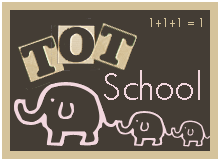 Truthfully we didn't do all that much in the way of planned school this week. I'm going to post about the monsters we made as soon as I figure out how to work the changes Photobucket did to their way of posting pictures, but that's another time. So, here's my comments about school on the go.
You can teach your child anywhere. This picture is a picture of Princess coloring at Razoo's, they have a fabulous menu for teaching purposes. There's lot of letters, lots of great pictures of animals, and it is a lot like a seek and find picture from Highlights magazine. So, we spent our time waiting for our food talking about the different animals and the letters on the paper. Then we went to REI and Ikea, there we had all sorts of useful discussions (and not just about when it is and is not okay to run). We got to talk about houses, how to put things away, where things go. We talked about climbing and animals, and how things are different. It may not seem exciting or like the best tot school, but it's what I wanted to post on this week.