I actually did some different activities with the boys than with the girl this week.
So, here's what all we did:
Well, we went to the
Children's Museum
. I love that place.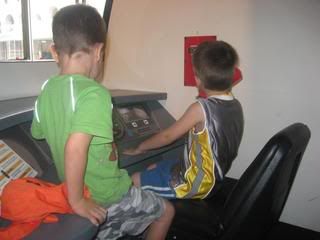 We also got lucky enough to do a whole bunch of fun crafts at the library, I posted lots about that
yesterday
. I did learn that I need to get some sort of lacing beads or soemthing for my kids. I have an idea brewing in my head for that.
So far it's all the same, but here's where it gets different. I'm working on reading and sight words with the boys. So we played some games. When
http://www.readinga-z.com/
had its freebie day I downloaded anything remotely related to zoo animals and its corresponding worksheets and scanned the lesson plans for it. So, I noticed on "What has these feet?" they talked about playing sight word games, and I realized my boys would love that.
So on index cards I wrote
has
,
these
, and
what
. I made two copies so they could play memory and later "Go Fish." But for this week we just went through those cards and it was wildly popular. We also matched up pictures of feet to animals. I don't have pictures of any of this because I didn't think of it at the time.
We made
lions
, which was another very popular activity. I'm tyring to think how to shrink the activity and make it into a lapbook, but we'll see.....
All in all, not that exciting of a week for activities, but I'm working through my ideas and trying to organize it better.