When I was in college and taking such difficult classes as "PE for Elementary Teachers," I had this as an assignment. We were to make various different things that could be helpful for our future classrooms, things like: bean bags, scarfs, geo-boards, other various stuff I don't remember, and tin can stilts. At the time I didn't make the stilts, because I didn't have ready access to the materials needed. No one in my family drank that much coffee and no one on my family really used that many tin cans, but today I made the kids spaghetti for lunch. Really, I made it because I wanted spaghetti, but we'll pretend it's for the kids.
So, as I the sauce cooked I put these together. Here's how:
1. Get some really big cans. I think mine are 32 oz. tomato cans. Open them up, I have a clean edge can opener, so I could just pop the lids back on top. If you don't have that, you can probably still tape it back on, but it'll need a lot more help.
2. Wash your cans, that way they don't get all smelly and moldy. That would be no good. You could also use new cans with the food still in them, and skip the next step.
3. Stuff your cans with extra paper you've got laying around. I used last month's Sunday School curriculum. I don't know this step is neccessary, but I figured it'd add extra strength.
4. Now pop the lid back on and tape it to the can. I used duct tape because it's nice and strong.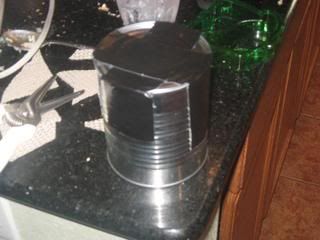 5. Get your kid to stand up and measure him against your piece of ribbon. You want the ribbon to go up to about his hip, and then back down to the floor. Add an extra few inches to go around the bottom of the can.
6. Tape the ribbon to the bottom of the can, and then again to the side. Do this on both sides of the can, trying to make sure the ribbon isn't twisted.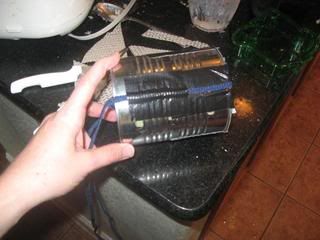 7. This probably isn't neccessary, but I saw it there as I was working on this, so I added some non-slip liner around the bottom. Tape it to the sides of the can.
8. Now completely cover the sides of the can with duct tape. This will keep the ribbon in place.
9. Repeat for the second stilt.
10. Give it to your kids to try.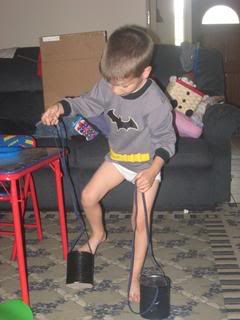 11. Watch them fall and decide to use it as a drum instead. Oh well, maybe next time.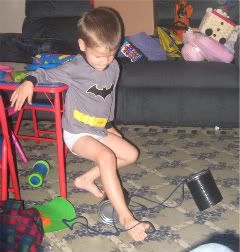 Now I need to make a third "drum" so Princess can have one. I think I might try the stilts again another time using tuna cans, that might be more in line with their skill level...... I seem to recall that being the advice in my class for preschoolers now that I think about it.