We continued our Farm unit, which I still think there is lots more to do, but I'll save it for another time. We're moving on to the Zoo and zoo animals. I think this will be a huge hit with my kids. So, here's how we finished up our farm unit.
We made barns, this was a huge hit, and a great time sink activity. It took at least an hour to do it with all of its various parts. Find out how
here
.
While we were waiting to get our tires changed (which took an hour longer than expected) we sorted animal pictures. I knew it was going to be at least an hour, so I brought our school stuff for the day. We sorted the animals into 4 legs and 2 legs, fur and feathers, adults and babies, and there was a whole slew more, but that's all they had interest for. I got the pictures from the
e-book I bought
. Of course you could just collect various farm animal pictures or stickers and do the same thing, but I loved that it was already put together for me (hey, I'm lazy every now and then). I also thought if you had farm animals you could do it that way.
Pretend there's an amazing picture of my kids sorting animals, the people in the waiting room were already looking at us funny, and I figured it'd get worse if I whipped out my camera.
We also finished off our file folder farms. I really like this format for making lap books. It's more of an art project and creates a fun play area. We made green confetti for the grass, and cut/tore a big blob of blue for the lake.
Afterwards we took our animal pictures and sorted them into the different places the animals would live on the farm. Which led to some interesting ideas and fun discussions.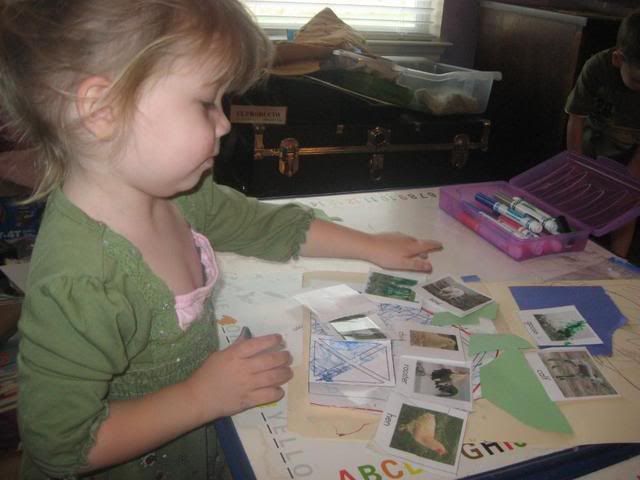 Then after all of this, the kids got to take a farm sticker sheet I'd found at Target and cover their farms with it. It's really interesting to watch the different personalities and how they place the stickers.
Princess, all of them on the barn, maybe a few elsewhere.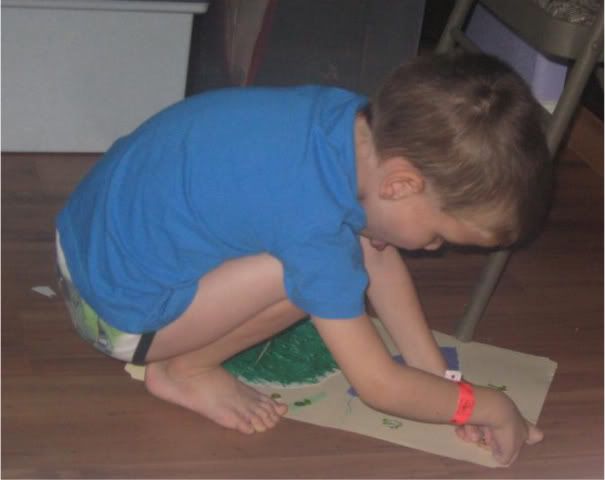 Superman spread out on the floor and carefully chose the silliest positioning, with lots of "look at this Mommy!"
Sadly, there's no picture of Batman doing this one.
And one extra of the the file folder farm, because I haven't had one yet of Batman, and I really like this shot.
We continued to use a lot of the activities we did
the week before
.
Other non-farm related activities:
Picnic in the family room
Playing games in the waiting room (sneaky cell phone camera), duck, duck, goose was wildly popular.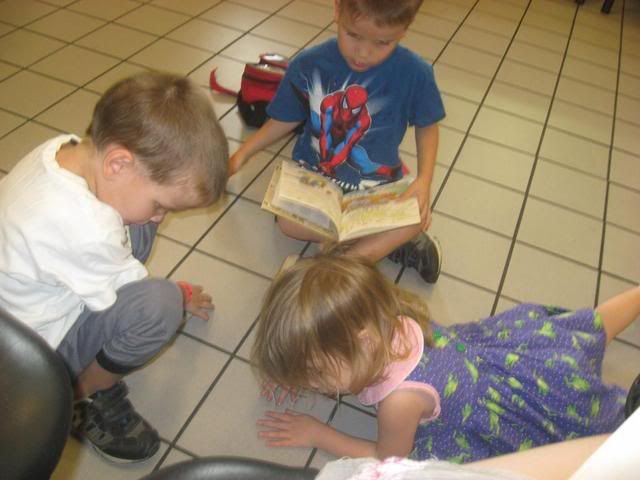 Washing dishes (I love our plastic tea sets, messy as they are)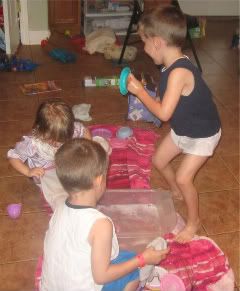 falling off the bridge, "ahhh I'm falling, rescue me. I fell."
For more great ideas visit Carisa
here
.