I finally get to join up with this one! Yeah!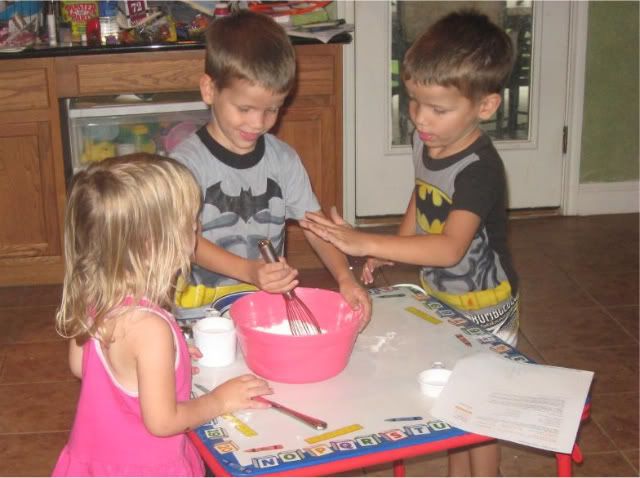 We made scones! Every week after church we have tea for lunch. We drink obnoxiously large amounts of tea. We eat large amounts of tea, cheese, sausage, crackers, various fruits and veggies. This week since my in-laws were here I wanted a bit more food, and to add a touch of class.
So we made scones, here's the
recipe
:
INGREDIENTS (Nutrition)
1 3/4 cups all-purpose flour
4 teaspoons baking powder
1/4 cup white sugar
1/8 teaspoon salt
5 tablespoons unsalted butter
1/2 cup dried currants or raisins (I added much more, probably closer to 3/4)
1/2 cup milk
1/4 cup sour cream
1 egg
1 tablespoon milk
I subsituted out raisins (which I don't like) for dried strawberries. The kids had a blast trying to cut them, and finally let me cut them with the "sharp knife."
1. Preheat the oven to 400.
2. Stir dry ingredients together. The kids had fun with this. We take turns stirring, so everyone gets to stir a little.
3. Cut in the butter using a pastry cutter. They try really hard, but I end up having to do this, because no matter how I set our frig the butter is always practically frozen. And let me just say how much I LOVE my Pampered Chef pastry cutter. I've broken pastry cutters before making pie crusts, and cut myself on them. This one has rounded edges, so that you can't cut yourself, but it still works just fine. That, and I like the handle design.
4. This is when you're supposed to add the strawberries, I accidentally added them as the last step. I'm used to adding stuff like that being the last step.
5. Now add the sour cream and milk that have been mixed together (I whisked them both for just a second). Again we each took turns stirring.
6. Wash your hands, and then dump them in flour. Do NOT rub your hands over the scones mix, because your kids will think they should do it, and they dump about another cup of flour in there in the process.
7. Try to pick out the loose flour. Admit defeat, and think to yourself that this does make it a little easier to make the small dough sized balls.
8. Grab small golf ball sized balls of dough, and place them on a greased cookie sheet, flatten slightly.
9. Now go back and add dough to the ones the kids didn't really make quite big enough.
10. Wait impatiently for 10 minutes to be up. Happily eat the yummy scones.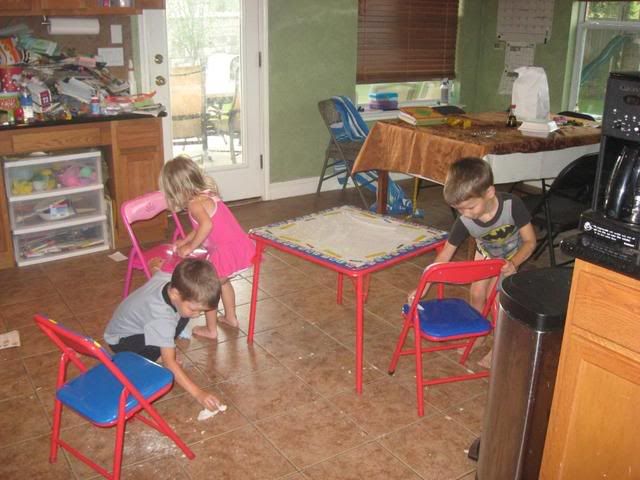 11. Let the kids clean up the floor. The bad part was they started grabbing paper towels and soaking them then using that to clean the floor. Oh well. We'll work on that later.
They also got to help Daddy make pancakes. Their helping was limited to holding the plate as he put more pancakes on. That and eating insanely large amounts.
For more Cooking in the Kitchen go to
Our Homeschool Fun
. Stay tuned next week, we make insanely lots of apple recipes.