So, I've posted a couple of times about our fabulous trips to
Zilker Park
. Across the street from there is the Zilker Botanical gardens. It has several parts: Japanese gardens, Rose Garden, Prehistoric Garden, and some sort of farm area. The really great part is it's FREE! We went there 2 weeks ago with a friend, and we went again this weekend with the grandparents.
First, let me tell you a genius way to keep your kids involved to someplace they may not be super thrilled with. Go beforehand with your camera take lots of pictures, then give your kids the pictures and send them off to find the stuff. It was hugely popular! Thus ends any sort of pretense at giving any sort of review or anything, now into the fun.
I also learned that if they know there are dinosaurs there, make sure to go to the dinosaurs first, otherwise they won't want to look at anything else.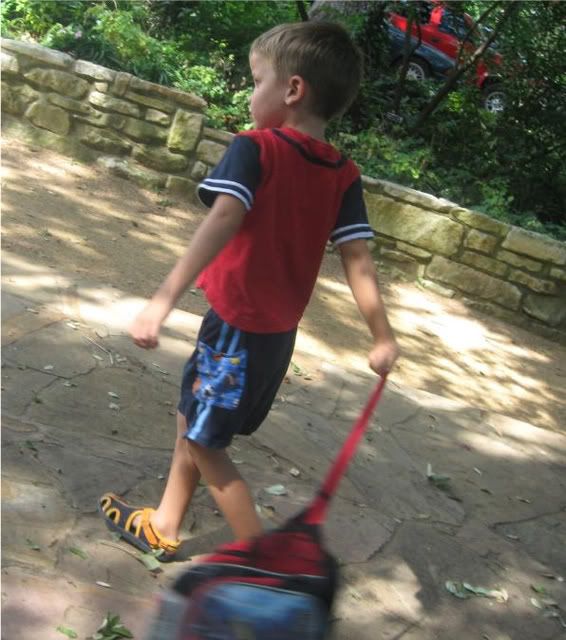 So while we were waiting for the "big guys" to get there, Superman entertained himself by spinning his backpack around. I wasn't as entertained by this when he hit his sister in the head.....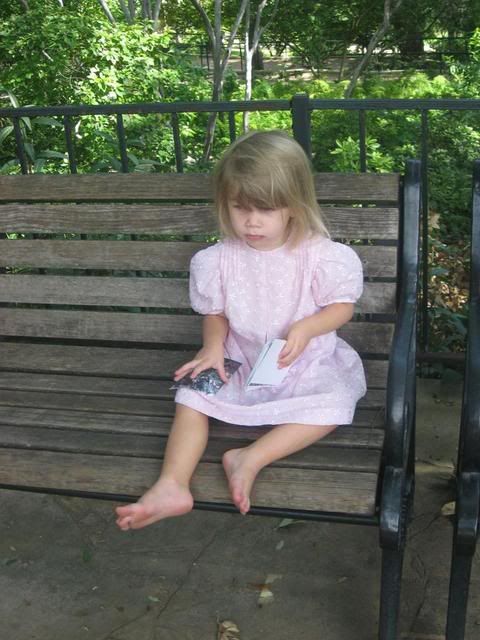 Then as we were sitting and waiting, I noticed that Princess' shoes were about 2 sizes too small. That would explain why she kept taking them off. Sigh, now she gets to walk around the whole day in these miserable shoes. Note to self, when we get home hide these shoes so she won't try to put them on again.
Batman had a blast trying to find everything in his pictures. He eagerly ran from place to place looking for his pictures. Of course Nana and Granddad actually wanted to look at the flowers. Thus came the dilemma.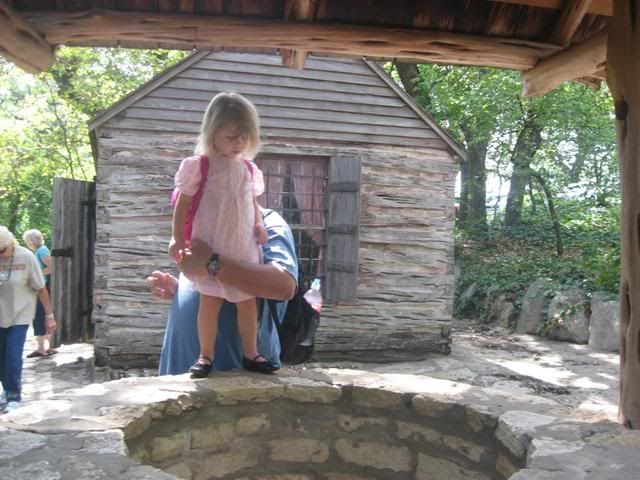 Here's a great "teachable moment," what is supposed to be in a well? Water, what did we find?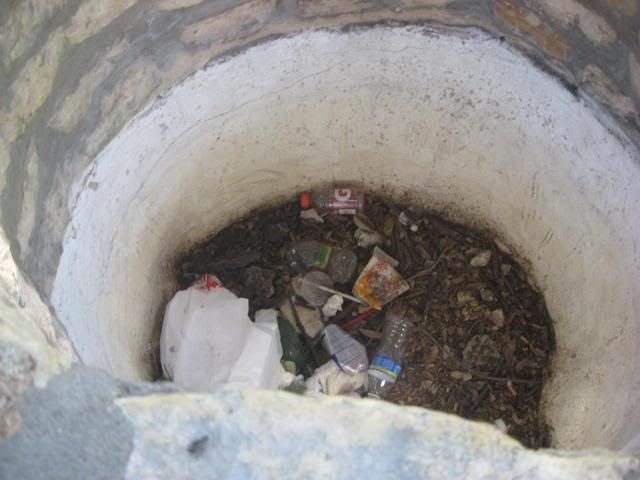 TRASH!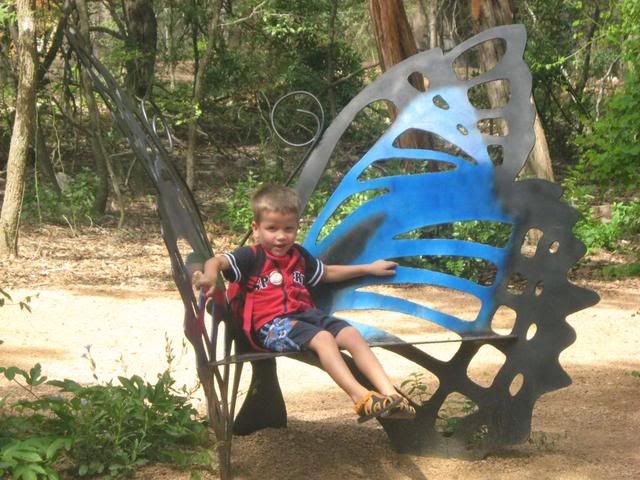 I still love these butterfly chairs, and yes I will keep taking ridiculously large numbers of pictures of my kids pretending to be butterflies.....
This is our usual site of the big guys while on a trip, they find something that interests them (usually an old tool) and then stand there and discuss it for a while. It's rather amusing... usually.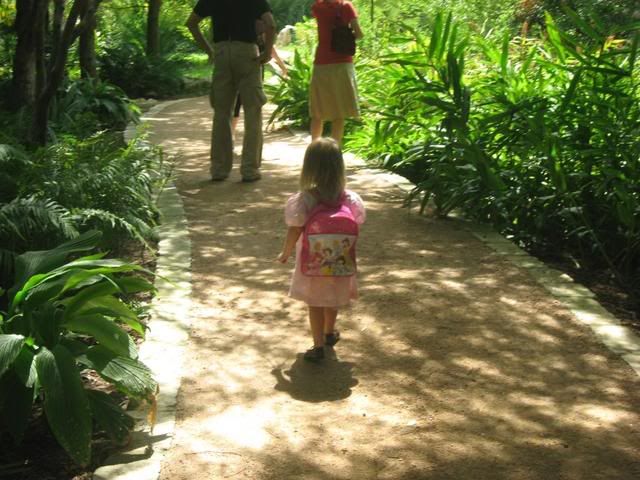 "Follow me guys. I go to old 'saur." I can't quite bring myself to break them of missaying dinosaur, it's just too cute. I know I need to fix that.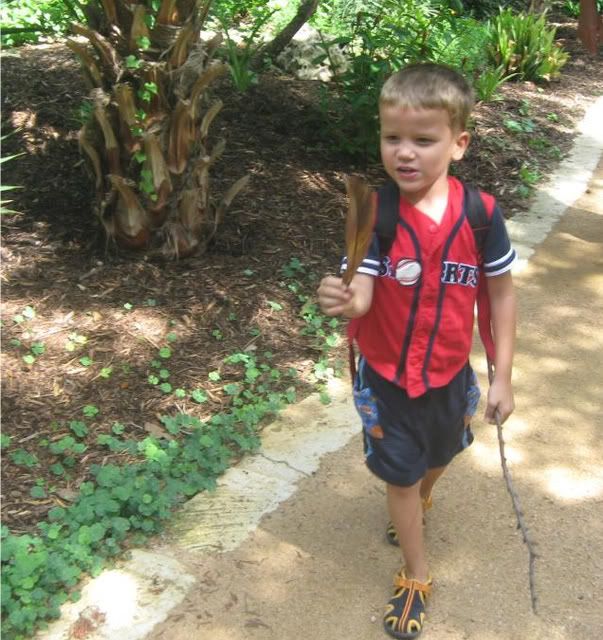 "See Mom, I found a big leaf. This is my stick, it's a gun." Then he proceeds to shoot me. I think they have the entire concept of hands up wrong. They run up and tell you to put your hands up, and as soon as you do they shoot you! Why, would I want to put my hands up?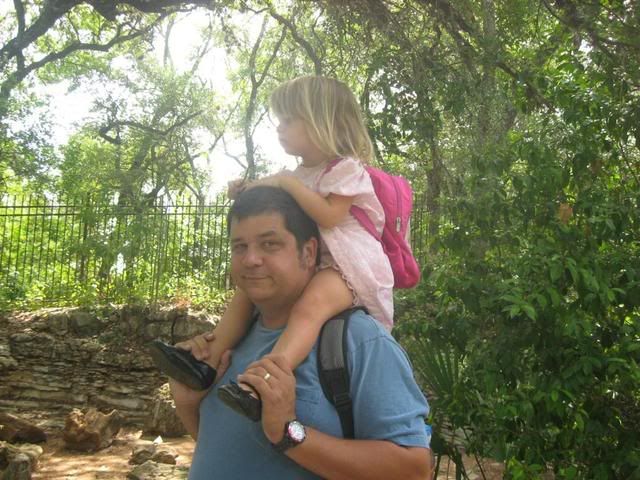 Daddy is really the best transportation for a Princess.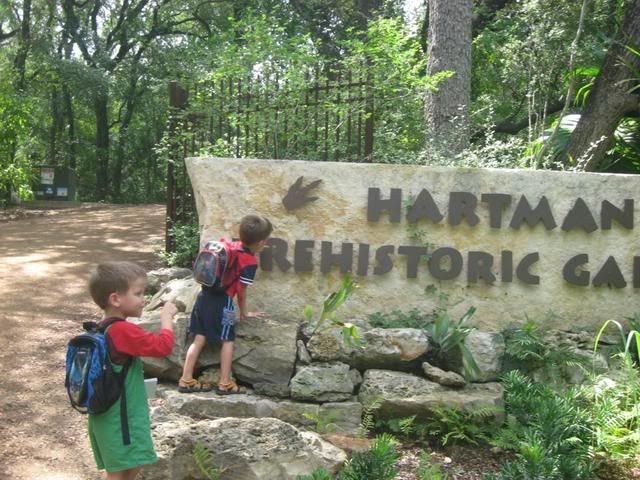 This was so much fun. They went from letter to letter finding all the letters of their names. Well, almost all.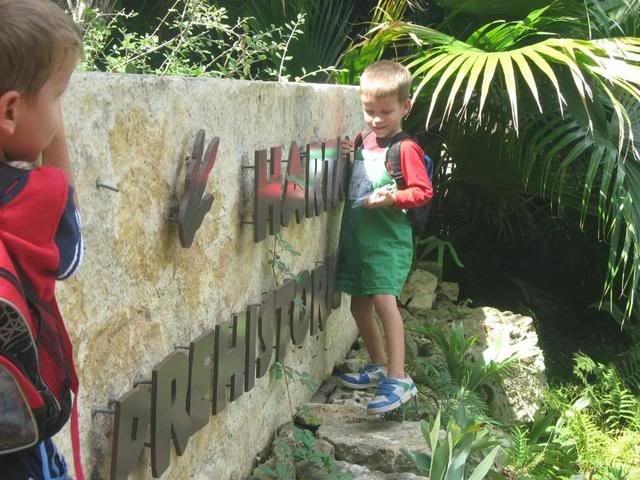 And then they realized they had a picture of it, and that made it even better!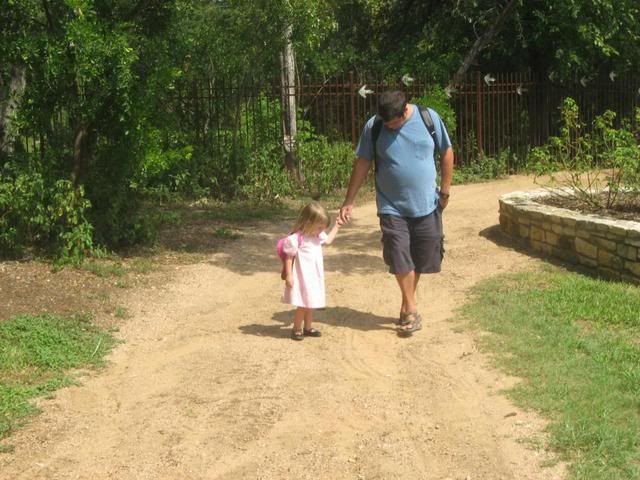 And that's just cute. There's something super duper cute about a Daddy and his little girl holding hands.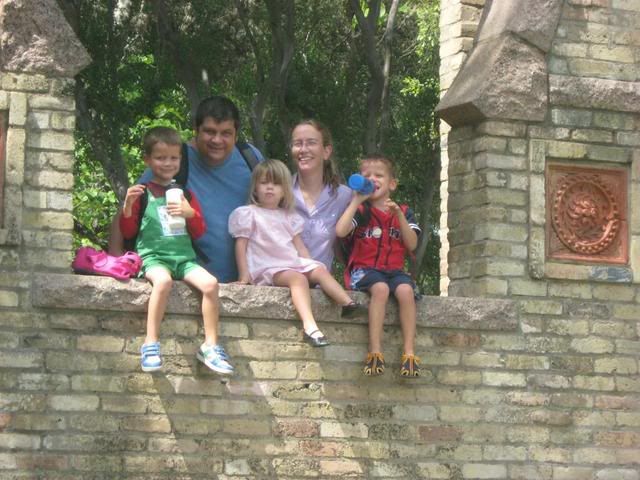 Look, I got to be in a picture!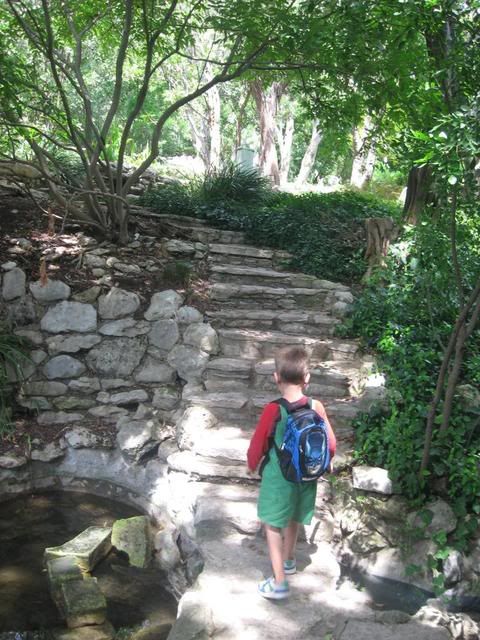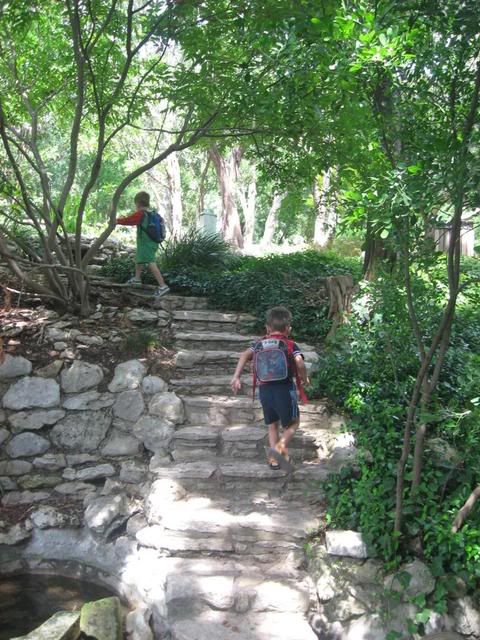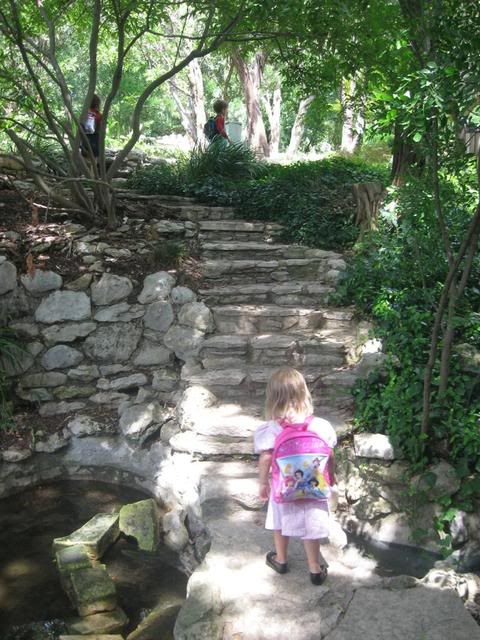 This was another one we had a photo, of and it led to a discussion about why the water was falling, and why we didn't have that much water. Sigh, stupid drought.
These next series are super fun. Superman kept trying to get Daddy to chase him. Which would have been a challenge considering he was carrying Princess. He'd run up and say, "Nyah, nyah, you can't get me Daddy." Then he'd run to a spot and site down with the most mischevious face you had ever seen. Once Jeff got too close he'd run to the next spot and start it over again.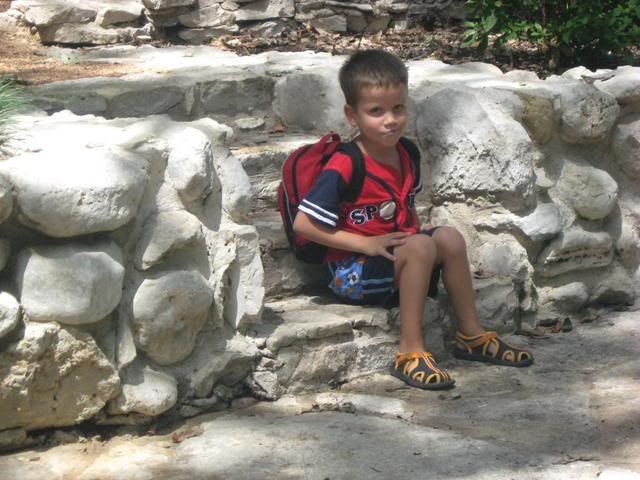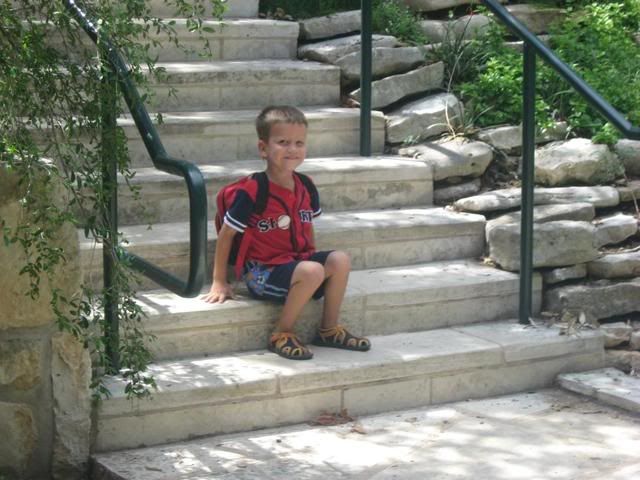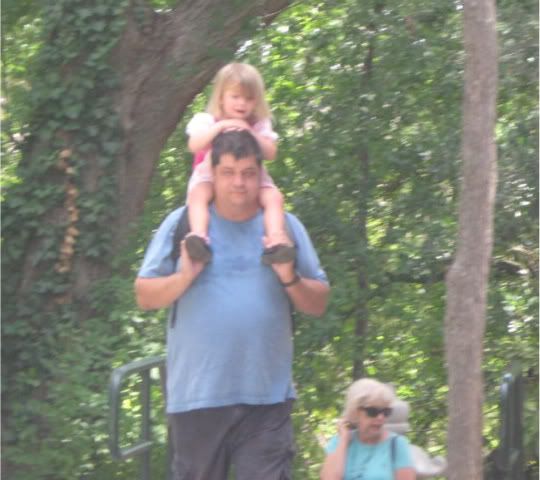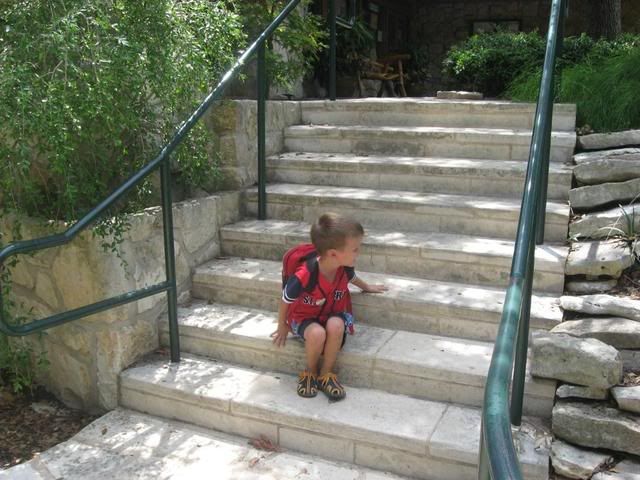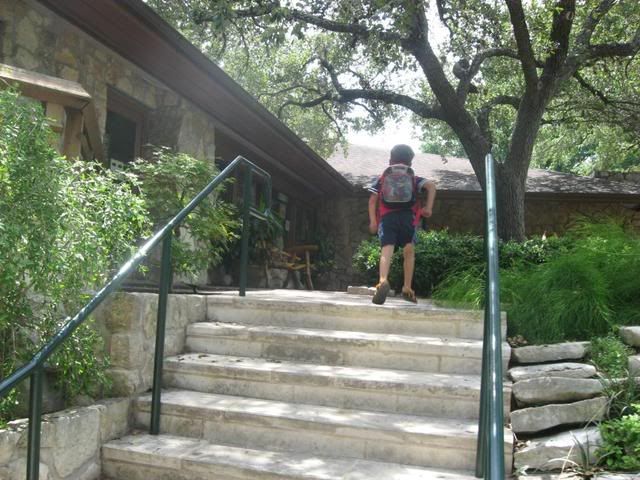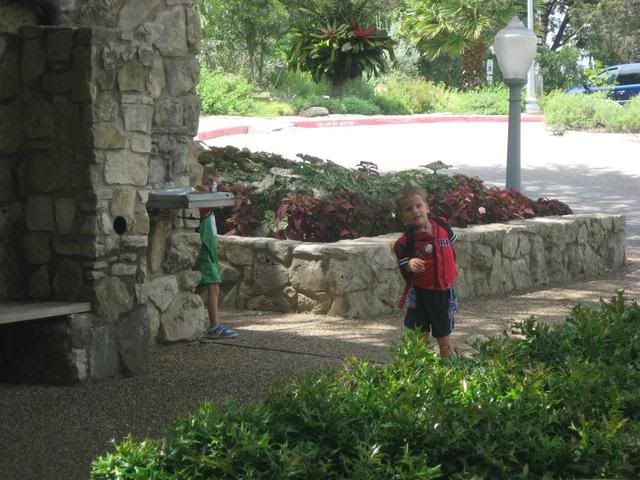 You can see his brother hiding around the corner.
All in all, that was probalby our most successful trip to a non-kid themed park. They had lots of fun, and did a really GREAT job walking around for over an hour. If anyone wants a copy of our park pictures let me know, but they're really only useful to local people, being for an Austin park.