WOW it was crowded, so we didn't hang around too long, but we did find some fun activities......
We made throwies. To make at home get an LED light, a 3 volt battery (think oversized watch battery), a STRONG magnet and electrical tape.
If you look closely at Princess' hand she is holding the LED you'd need.
Yeah, I was going to try and link the parts, but truthfully while I could construct one I don't know the specific name of the type of LED. All we had to do was slip the connectors on either side of the battery, put the magnet on, and put large amounts of tape.
After they made it, they went into the "light cave," and everyone got to throw them up in the air and watch it soar up to the metal plate. This was wildly popular.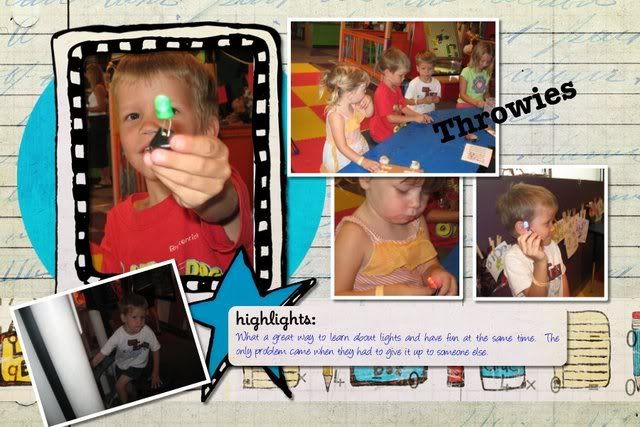 As always, shape sorting was very popular (So was the restaurant, but no pictures this time, did I mention the crowds).
Superman sending bolts downstairs
Batman built a car.
The only part of the new traveling exhibit they were excited by. Playing with scarves and making things fly. They're just a bit young to try and make most of the activities there. But, it's perfect for elementary age.
And, we did in the end have to buy 2 new throwies for the boys to make at home. They're hanging on my frig now, and a week later are still glowing.