Okay, I have to say I'm getting a huge kick out of seeing how towns are remaking train stations. We first saw St. Louis' remimagining of
Union Station
. Now we got to see Kansas City's
Union Station
. I have to say this one is infintely cooler.
The station is an amazing work of art just to look at it. There's lot of little shops that we didn't get to look at, which was kind of disappointing because they looked to have some unique flair to it.
To get to the kid's museum you go down an escalator, which my kids still freak out at. Then walk for a long time past all sorts of fun stuff to look at. THen you get inside and it is SO COOL!
To learn abou the laws of motion you play mini-golf!
Which come to think about it, was probably one of the first times we've gone put-putting. That is somewhat shocking all by itself because I love mini-golf. I don't like real golf, but that's another story.
My kids are absolutely enthralled by reptiles. I could truthfully expand that out to any small animal. I think in the very near future the fight over pets will become serious.
Heading into the dinosaur dig area, this really freaked Princess out. But, I thought it was pretty cool.
Once in there you had lots of different paint brushes to choose from to unbury the dinosaur bones. You could also make rubbings of different dinosaurs. My kids still don't have the dexterity to really get the rubbings done.
Jeff and I had a lot of fun with this optical illusion area. Here we're in a room that's upside down and has all sorts of weird things about it. The kids mainly had fun running from room to room in there.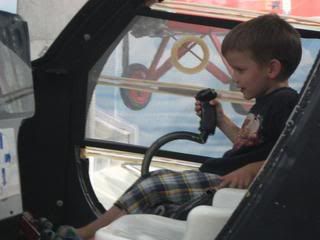 They were mostly patient waiting in line to drive the helicopter. Isn't it funny how those are ALWAYS the most popular part of things to ride in the big cars and planes and things they see all the time but can't go in.
This was especially intriguing to them because we had just narrowly
missed a tornado
the day before!
So, they had this crime solving area, which could have been really cool to older kids, but a few of the exhibits weren't working quite right. You were trying to find the missing cow. After they heard this our kids spent the next 15 minutes running around the museum trying to find the cow. "Mommy, where's the cow?" "Why can't I find the cow!?!" That was not the wisest decision on our parts, oh well.
This is larger than usual, but it's so I remember who's who in the pictures: Princess, Superman, and Batman. I'd been looking at the earlier pictures trying to remember who is who in the pictures.
Again we only left because it was closing time, so we headed over to what was a bit fancier of a restaurant than we intended to go to, but it was REALLY good food, and a lot of it. So, it was probably worth it. We got in a couple more hours of driving that night, which meant we only had 3 hours of driving for the next day. So all was good.