They're all really into questions right now, here's how our drive down to the Children's Museum went:
What makes the road Mommy?
What makes the trees?
What makes the houses?
What makes the clouds?
What do clouds do?
As you can see it was a nonstop supply of questions, and some of them were repeated after being answered another couple of times. They really latched onto my answer for trees though.
I explained that God made the trees, but trees need water, dirt and sun to grow. Then I said we'd learn more about it when we got home (as I frantically thought, now what will I do).
Luckily the answer came in the e-mail. I've been chosen to be a tester for Teacher Bookbags, and they're new August book bag was available for preview. I opened it up and the first theme was trees! SCORE! So, I printed off the sheet that perfectly fit what I needed.
So, what I really loved about these activities, they were already set up for different cutting skills. The boys had a vaguely oval shape around the tree to cut out, and Wendy had a square. Perfect for their skill levels. We had lots of fun talking about what trees look like for different seasons. The only problem (and this is in anything showing a winter scene), we don't have snow, but it led to a whole different discussion about snow.
Now, back to that whole who do trees grow thing. There was a paper for that too!
According to Princess rain goes up. She was quite insistent that her rain cloud went on the ground and pointed up. Fine, that works.
My addition to the project was to have them glue dirt on the bottom of the page. I was very impressed with the boys very carefully putting glue only on the line that had been drawn on the page to represent dirt. I think they're skills have improved a lot recently. It used to be these were just big blogs of glue.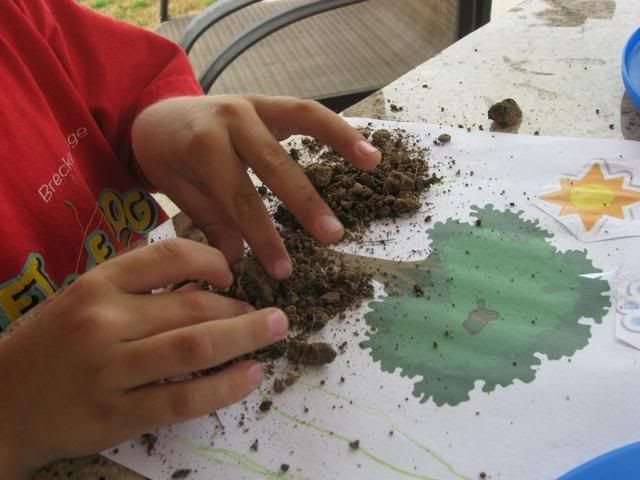 look at that skill
I'm looking forward to using the rest of the
August theme
, but I don't know if it'll make August activities, the ideas perfectly compliment themes for later in the year. All in all, I'd have to say it's a great buy for about $3, and there's that whole instant gratification thing of the download.
*I have not been compensated for raving about this in any way, I was lucky enough to be chosen to get the freebie, and I'm perfectly happy to tell about products I love. That, and I now have some cool new books to add to my book list.
As a side note, I'll be doing more with trees in a month or so because our theme in a few weeks is "leaf." I just happened to do this activity now, and thought it was really cool.