Superman as a lemur. Batman as a kangaroo.

It took 15 pictures of those cutouts to get 2 that were usable.... You can't beat a zoo that's free. It didn't have any of the big deal animals you'll find at other zoos, but it had monkeys and camels and llamas, not to mention several farm animals you could feed.




I also love that it had a small garden that the kids could touch, actually I should say they were encouraged to touch. They also loved the bridge. Let's face it, I still love climbing over bridges. They're fun.





The farm animals are in a small building to the side and you can buy a cup of corn to feed them for $.25. My kids had a lot of fun shoving corn at surprised animals, who must get fed a lot because they weren't super eager to eat it.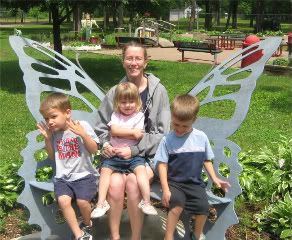 I had to get a picture of me looking like I had butterfly wings. These are becoming common in places that are trying to put in a "fancy bench," but I still love them.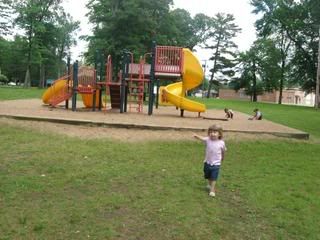 And just to top off the wonderfulness of this stop, there's a playground next to it, which Superman kept asking when we were going to play on it. That's the boys in the background busy burying their shoes. Sigh, then they complained they had dirt in them.




Oh, and they managed to find the one puddle in the whole park and have a blast stomping in it. The only one who didn't get to was poor Superman who insisted he wanted to wear his "old shoes," which are his tennis shoes. Poor boy.