In honor of 4th of July and because I wanted to start up doing nursery rhymes again, I present as our craft for the week Yankee Doodle.
And, if I did this right I've included the papers we used for it.
So, here's what you do:
1. Print out a copy, or make your own version. Also get crayons or markers, glue and scissors.
Yankee Doodle
2. Let your kids have a blast coloring. Talk about how our nations colors are red, white, and blue. Try to get them to use those colors, but then accept that they are just going to use green because they really like it.
don't you wear armor to do crafts?
3. For little ones draw a line for them to cut on. This really helps Princess because she is still not confident in cutting.
As a side note: This time I had them each make their own pictures and then worked together to make one group picture for the book. I think I will use this method going forward. I might also have them do the words, but they lose interest with that as well.
4. Glue your pictures on. This was a great excercise in following directions because I told them how to glue everything on. First the horse, then yankee doodle, then the hat, and finally the feather. They chose the actual placement, but I provided the guidelines.
Aunt Tara helping with how much glue. Did you know you need about a teaspoon worth of glue for a piece of paper about the size of a penny?
5. Now read your song and have fun talking about it.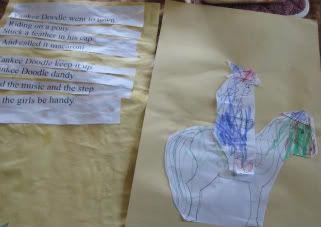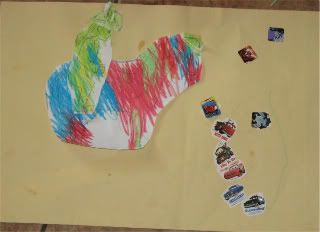 And as a bonus, here's a fun song we kind of made up. It's 10 Little Patriots, sung to the tune of 10 Little Indians (can you guess how the song goes?)
1 little, 2 little, 3 little patriots
4 little, 5 little, 6 little, patriots
7 little, 8 little, 9 little patriots
10 little patriots all in a row
Patriot File
As we sing it we put up a picture of a patriot soldier. Yes it's silly, but my kids desperately need any help they can get with counting. That, and princess loves singing.
For more great patriotic ideas go to
Picnic Talk
.