I love the Zikler Summer Musical. This has been a tradition to go see it, since I've been in college. The great thing about my birthday being in the middle of summer is I can make everyone go see it for my birthday. This is the second year we've included the kids, and they had lots of fun at it too.
We got there way super early and set up our blankets, then after hanging around for an hour or so waiting for more blankets to adequately have room for 11 people we set off for the playground and the train.
Poor Princess is just like her Mom and Mimi, she turns red when she's hot. That is not a sun burn, she is plastered in sun screen.
First Batman insisted he needed his picture taken next to the statue. I'm raising a ham I tell you.
* Important side note, anytime you're spending a long afternoon in the hot sun, pack a couple of spray bottles. They are a great way to entertain little kids and help cool you off. Okay, end of side note.
We got to ride the last train of the day. We rode it a few years ago when I made Mother's Day books for the grandmas, and so Jeff recognized things as we drove by.
Sadly, there's no pictures of the musical, what with not wanting to make the dancers fall as they dance across the stage, but we had lots of fun eating chicken nuggets and apples and drinking large amounts of liquid (did I mention it was hot?). At the end of the night Princess was out, and had decided she'd had enough and she was sleeping.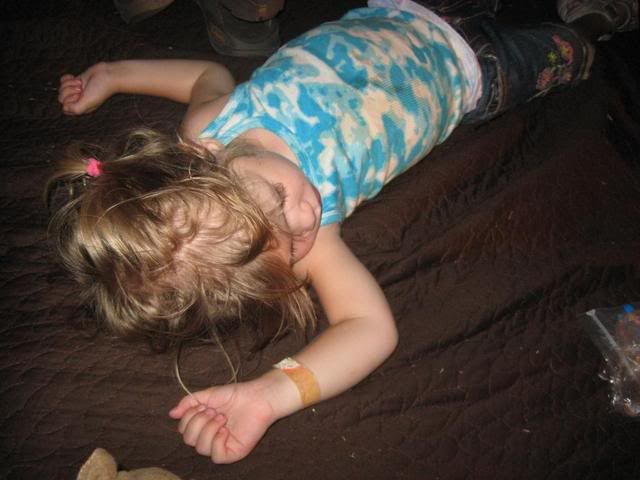 She's been shot!
And then Uncle Sean decided to have some fun.....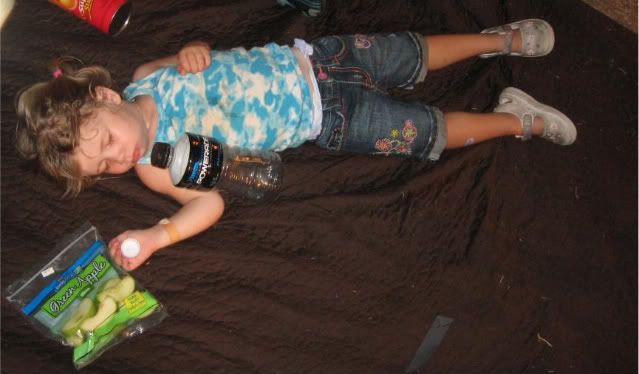 Sigh....... at least it was only Powerade.