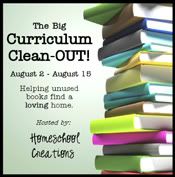 Does anyone else always feel like they've spelled that wrong?
Here's what in this giveaway:
Teach Your Child to Read in 100 Easy Lessons
Why am I giving it away? Well, I figured out that it's not my teaching style, so despite having about 10 different friends rave on this book, it didn't work for me. So, I'm letting someone else try it out.
This giveawy is coming at the perfect time, because I'm busy cleaning out my garage of some of my teaching stuff. So, I'm sure more will be coming.
How to get entries:
1. Comment, tell me one activity you've done with your child
2. Follow, I admit it, I love to see that more people are reading my blog, so follow me and then comment about it.
3. Blog about this, and then comment again with a link to the blog post.
This is open to US shipping, and the winner will be chosen on August 15th by my kid drawing a name out of the bag.
Good luck. If you want to find more great giveaways go to
Homeschool Creations
and be amazed! I mean seriously, she has two giveaways that I want to win (
workbox
and the
preschool
one)