I'm joining up with this blog hop, because we read a lot, and I like to see what other's are reading, and besides this forces me to be somewhat organized, and that's always a good thing.
Sun Up, Sun Down by Gail Gibbons
- awesome informational book about the sun, and how it affects us. Written right about preschool/early elementary level. I highly recommend any Gail Gibbons book you see, she has yet to make a bad one that I've seen.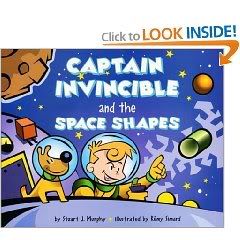 Captain Invincible and the Space Shapes
- I hadn't realized when we checked this out that it was about 3-d shapes, and my kids aren't quite ready for that. So, they enjoyed it, but not enough to want to read again.
http://www.amazon.com/Hello-Sun-Dayle-Ann-Dodds/dp/0803728956/ref=sr_1_2?ie=UTF8&s=books&qid=1250690811&sr=1-2 - A little girl goes in and out changing her clothes as the weather changes. No one was super duper wanting to read this lots, but it's cute. We have another version we own that I like better about a bunny.
Bear Shadow
- This is the big winner of the week, and was what got me thinking about our
shadow experiment
. I personally really loved it when today, one of my boys started retelling the story only changing it to being about his shadow.
The Sun
- meh, not great, not bad. I like the Gail Gibbons more. But, if you want some great real photos this book is for you.
Me and My Place in Space
- I have loved these books for years. And when
Our Homeschool Fun
started talking about geography books for this age, I immediately thought of this series. I love all of the books in this series, and realized my kids are ready to enjoy these too. This book does a great job picking up where "Me on the Map" leaves off, it starts at Earth and goes out to Universe level and then back down. My kids love it. Probably not as much as me, but that'd be hard.
So, that's what we read this week. For more great posts on what people have been reading go to the
Well Read Child
.