I've been here a couple of times, and keep forgetting to post about it. So, here's goes.
Champion Park
It doesn't have a traditional playscape, but instead has some manmade rocks to climb over and under.
We've been singing "I'm Going on a Bear Hunt" a bunch recently. Here's Batman acting out the song. He's pretending to be the bear. Everyone else ran from him screaming their silly heads off.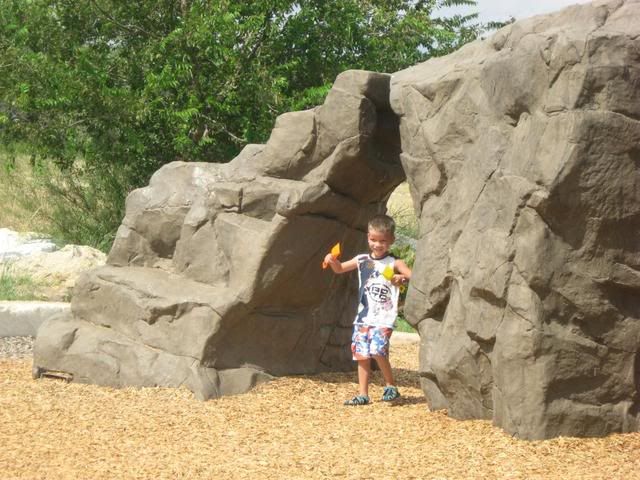 "Going on a bear hunt. Gonna catch a big one. I'm not afraid. Oh NO! What's THAT?"
I love that it has a sand pit that is shaded. They've put in a shaded area. They also have a dinosaur skeleton you could uncover, but my kids are way too busy building their own sand castles.
The part that makes this so super wonderful is the little water area next to it. It's shaped like a whale (or a shark technically, since it has a fin on top).
I love the water area, because after getting thoroughly filthy while playing in the sand they can clean up afterwards.
There's also miles and miles of nature trails, but right now it's just too hot to really enjoy them. One of the trails will take you over to the other
splash park
right next door.
Edited to add: Go to
I Blame My Mother
for more kid friendly Friday posts.