So, we got our Creation book all done. I kind of cheated on the last two days. My kids can't draw, and I don't have a large collection of magazines to tear up for a collage. Or at least not ones that would help with what we needed, so what did we do?

STICKERS!

Who doesn't love stickers? My kids certainly do.



So for Day 5, creating birds and fish draw a wavy line down the middle of the page. Then color the water and start putting stickers on.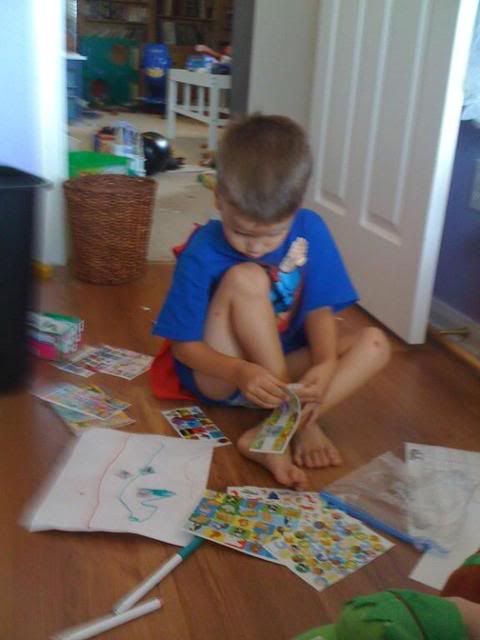 Day 6 we just loaded up with animal sitckers. As you can see I meant that quite literally. Superman had a blast just putting stickers all over the place. Eventually the page ended up about an inch think. Okay, probably not really, it just seemed like it.


And that is where I let some control freak parts go, and let him put the bird on the wrong page because "Nests go in trees Mommy." So, apparently according to Batman on Day 3 God also created 1 bird and a nest to go in the tree.

And for Day 7 when God rested we have a nice blank page. I thought about putting a picture of the kids sleeping, but I rested instead, and didn't print it off.

Our Creation book is now done. I have put packing tape at the top of the pages and 3 hole punched them, and they're going into our calendar notebook to keep and review frequently. I'll get a post in about calendars later this week.

We had a lot of fun making it, and a lot of fun talking about the different things and discovering lots.

For more We Made It posts go to Ramblings of a Crazy Woman.